Caucciù la zine
Camelia Bezzola
Milan
2018/2020
Caucciù è una posterzine illustrata che parla di musica, luoghi
e persone che "vivono" questi ambienti.
Ogni numero ha come protagonista un luogo-non luogo.
Una raccolta di interviste, racconti e storie, il tutto accompagnato da piccole e grandi illustrazioni.

Caucciù is an illustrated posterzine that talk about music, places and all the people who live in the spaces.
Each number has as protagonist a place, it could be a physical or mental one. A collection of interview, stories and talks complemented by small and big illustrations.

Il primo numero di Caucciù parla di Milano, ma non la città che tutti conosciamo. Una Milano caliente, dove si incontrano e scontrano culture differenti e dove tutti hanno la possibilità di raccontare la propria storia.

The first issue of Caucciù talks about Milan, but not the city that everyone known, it will be a Milano caliente. A city where it's possible to meet different cultures and ideas. A place where everyone can tell his stories.

With the collaboration of:
Selton, Giulia Cavaliere, Cacao Mental, Alessandro Cripsta, Martina Sobacchi aka Martilinea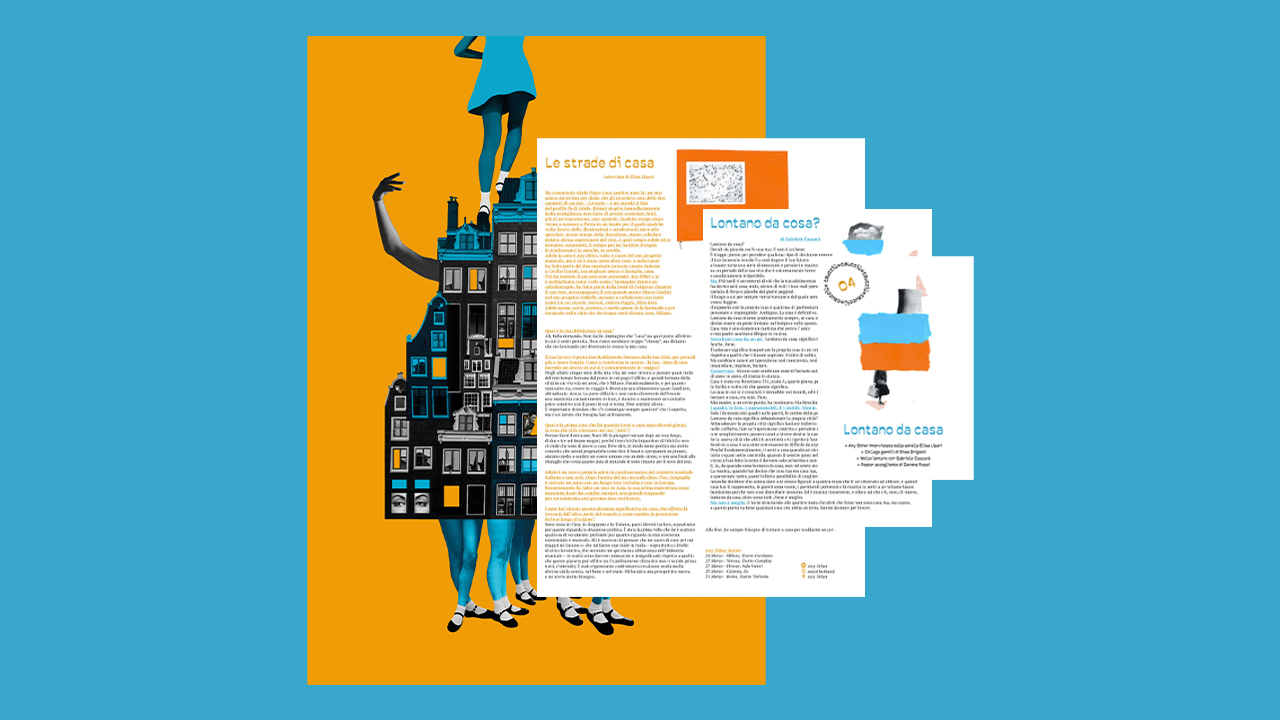 Il secondo numero di Caucciù racconta i luoghi lontani da quelli che ciascuno di noi considera "casa". Ma cos'è casa? Si può essere a casa quando la vita è un tour continuo in giro per l'Italia
e l'Europa? O ci serve una base dove poter fare cose normali come, per esempio, cucinare, per tenere i piedi per terra? Se lo domandano i protagonisti di questo numero.

The second issue of Caucciù tell about all the places away from the place that we consider home. But, what is home? Can we consider to be home when our life take us every nights around Italy and Europe? Or do we need a place where we can do normal things, as cooking, and feel that we are in the right place?


With the collaboration of:
Any Other, Elisa Lipari aka Lipsteri, Gabriele Cassarà, Enea Brigatti, Serena aka Michiamoro

Il progetto è accompagnato da materiale video che si può trovare sul canale
Youtube
della zine: interviste a illustratori, a interessanti nomi del panorama musicale italiano, cover di canzoni.
The project is accompanied by video material that you can find on the Youtube channel of the zine. Here you can see interview to the illustrators, music cover and interview to interesting name of the italian music background.
Credits
A work by Camelia Bezzola, Gaia Minozzi and Michele Mastrovito
Milan, 2018/2020

This is a private project. No part of this publication may be reproduced in any form or manner whatsoever without prior written permission,
except in the case of brief quotations embodied in critical article and reviews.